Yalgogrin Gold Project – Central NSW
The Yalgogrin Gold Project was acquired by Thomson in October 2019. EL 8684, together with the recently granted EL 8946, covers the Yalgogrin Gold Field with multiple historic gold workings.
History
Gold was first produced at Yalgogrin in 1893 and continued sporadically at multiple centres until 1954. Total historic production from the workings is estimated at more than 15,000 ounces at grades averaging over 1 ounce per ton. Multiple high-grade surface samples occur at and between historic workings and there has been little modern drill follow up. Maiden drilling by Thomson in August 2020 intersected the first known high-grade gold results below two sets of workings: 5m at 10.3 g/t Aubelow the Bursted Boulder shafts and pits and 2m at 7.5 g/t Au below Shellys.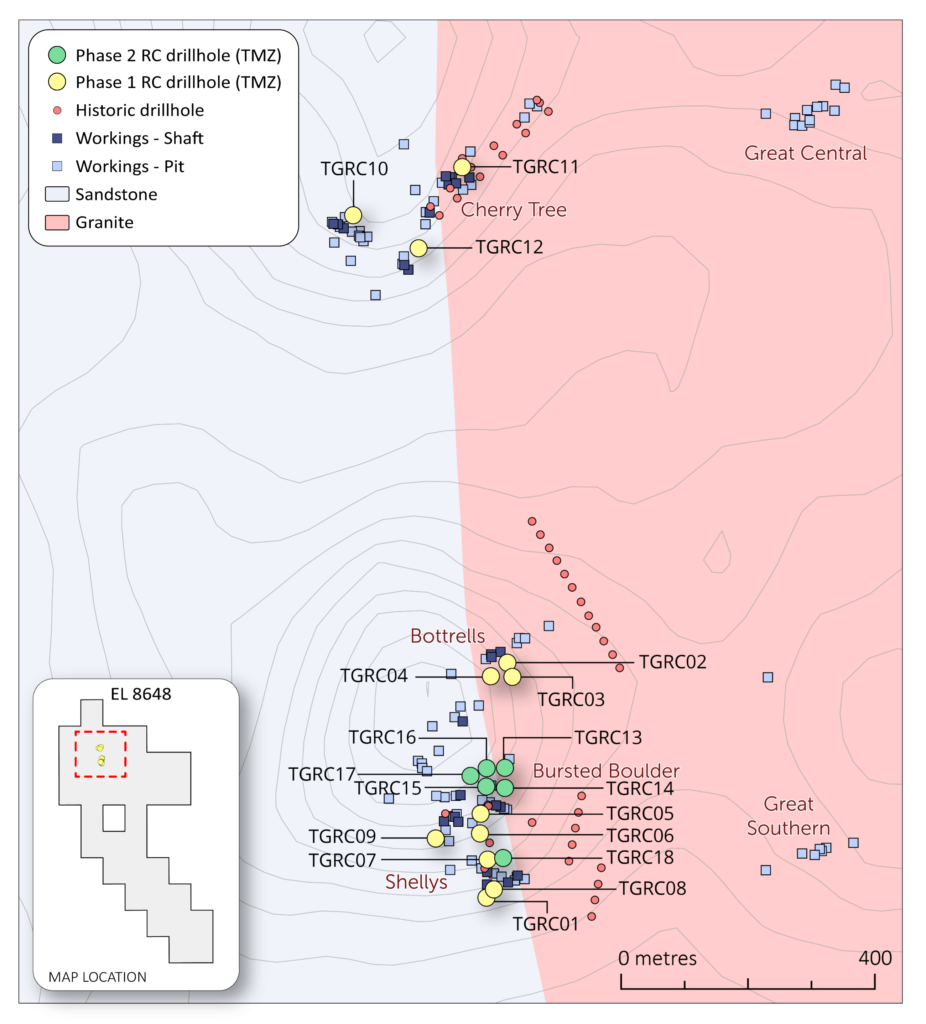 Location and Geology
The Yalgogrin Granite is one of a number of Silurian to Early Devonian age granites that have intruded the hanging wall of the crustal scale, west dipping, Gilmore Fault (Figure 3) Depending on timing or chemistry it appears that some granites are prospective for either gold (Grong Grong including Harry Smith, Yalgogrin) or tin (Ardlethan including Bygoo), or both (Kikoira). Yalgogrin appears to have many similarities with Thomson's Harry Smith project.
The Yalgogrin Gold Field is centred on a major NNW orientated basin margin structure bounding the Yalgogrin intrusive on its western flank (Figure 3). This structure appears to be a sister structure to the crustal-scale Gilmore Fault and is interpreted to connect with it at depth.
EL8684 is dominated by a thick sequence of Ordovician metasediments (Figure 4 – purple colours – Oada, Abec, Omaw), including siltstones, sandstones and shales/phyllites of the Abercrombie Formation which vary in metamorphic grade dependent on regional metamorphism as well as the proximity to intrusives. A complex suite of Silurian granites, granodiorites and microgranodiorites (Yalgogrin Granite) intruded these sediments often exhibiting a fault contact with the sediment. Significant structures, parallel to possible mineralised features evidenced by previous workers, trend NNW through the tenement and possible dilation zones are observed nearby to significant groupings of old workings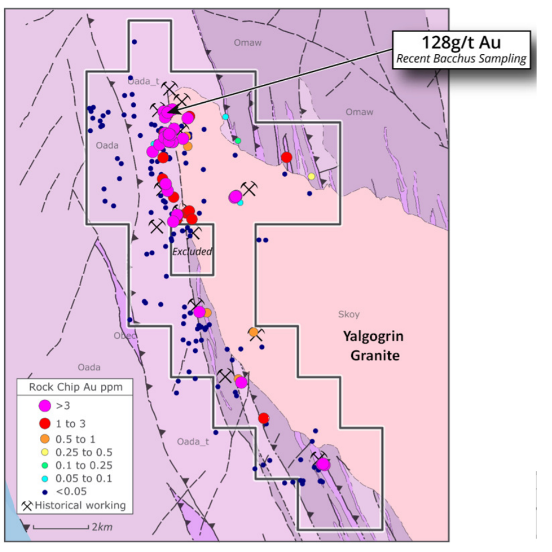 Subscribe to Announcements