Mt Carrington Silver & Gold Project – NSW
Overview
The Mt Carrington gold-silver-base metal project is located 5km from the township of Drake in northern NSW on the Bruxner Highway. The Project is located 1 hour from the regional centers of Casino and Tenterfield in NSW and importantly located within potential trucking distance of Thomson's 100% owned Texas District, Conrad and Webbs silver base metal projects. Thomson has successfully restarted the polymetallic MRE's for the Strauss and Kylo deposits at Mt Carrington for a combined 32.7 Moz AgEq @ 169.3 g/t AgEq.
There has been a significant history of gold-silver and copper mining at Mt Carrington starting in 1853 and with modern small scale open pit mining by Mt Carrington Mines from 1974 to 1990. The Mt Carrington district hosts 8 known precious and base metal deposits.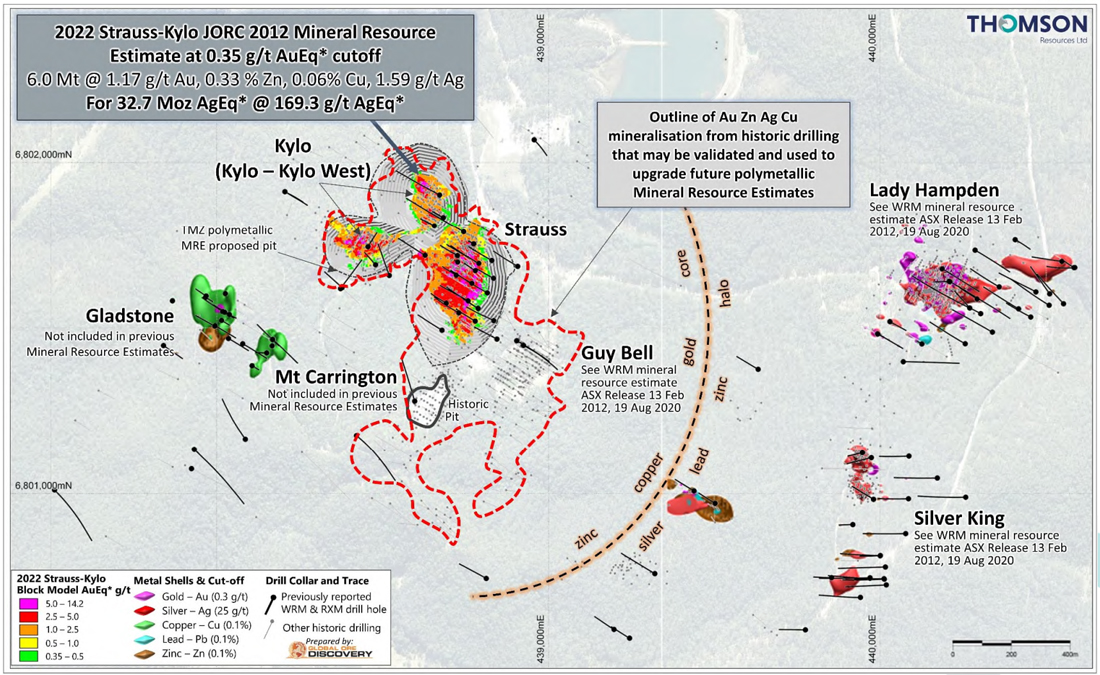 Earn-In Agreement
Now a 2-stage exploration earn-in and option to joint venture whereby Thomson can earn-in up to 70% of White Rock's Mt Carrington gold – silver – base metal project
Moves away from the narrow gold-first development project focus of original agreement
Thomson can now focus earn-in activities on advancement of the "Mt Carrington Polymetallic Project" through exploration and development activities
Focus will initially be on integrating the known gold-silver-zinc-copper mineralisation at Mt Carrington into the Hub and Spoke Strategy towards achieving its targeting of an aggregate of +100 Moz Silver equivalent resource base to catalyse potential development of a central processing facility
Existing Mt Carrington metallurgical and JORC 2012 and 2004 MRE's for the deposits will be updated under the JORC 2012 to report combined gold-silver-zinc-copper mineralisation
Exploration Activities
Thomson will take a systematic district scale approach, as has been demonstrated with its 100% owned Texas silver base metal project, to evaluate the polymetallic resources of the Mt Carrington district as a potential key component to the Thomson's NEFBHS centralised processing concept.
Thomson's initial focus will be on the Mt Carrington "Polymetallic Core Zone" deposits where preliminary analysis suggests significant value can be unlocked by capturing the combined gold-silver-copper-zinc mineralisation, as defined by the existing drilling, into an updated JORC 2012 MRE and by additional exploration drilling in between the Kylo, Strauss and Guy Bell deposits to determine if the mineralisation could coalesce into a larger polymetallic deposit.
Subscribe to Announcements