The Queensland Gold Project is located near Chillagoe in Far North Queensland, 150km west of Cairns. It lies 30km west of Chillagoe near the Mungana, Red Dome and King Vol mining operations. The Project comprises 5 granted Exploration Permits and 1 Exploration Permit Application covering 593 square kilometres. The Project is currently being acquired from Bacchus Resources Pty Ltd and the Company is working towards completing satisfaction of all of the conditions precedent.
Location and Geology
The principal target type in the area is Intrusion Related Gold (IRG) deposits which are typically associated with felsic Carboniferous breccia pipe and intrusive complexes. In this area several such bodies are known and display features typical of the nearby Red Dome and Mungana IRG deposits.
The Palmerville Fault Zone is a fundamental crustal structure that allowed the fertile Carboniferous intrusions and breccias to be emplaced into the older country rocks of this region (Figure 1). East of the Palmerville Fault the intrusions and breccias are hosted by dominantly limestone rocks, the result being replacement skarn deposits like Mungana and Red Dome.
Within and west of the Palmerville Fault Zone the older intruded rocks are older Palaeozoic and Proterozoic age intrusives, schists and gneisses. However the mineralisation-associated intrusions are the same age in all cases: late Carboniferous. The Kidston and Mt Leyshon IRG deposits, although some distance to the south, are also associated with Permo-Carboniferous igneous intrusions into older rocks.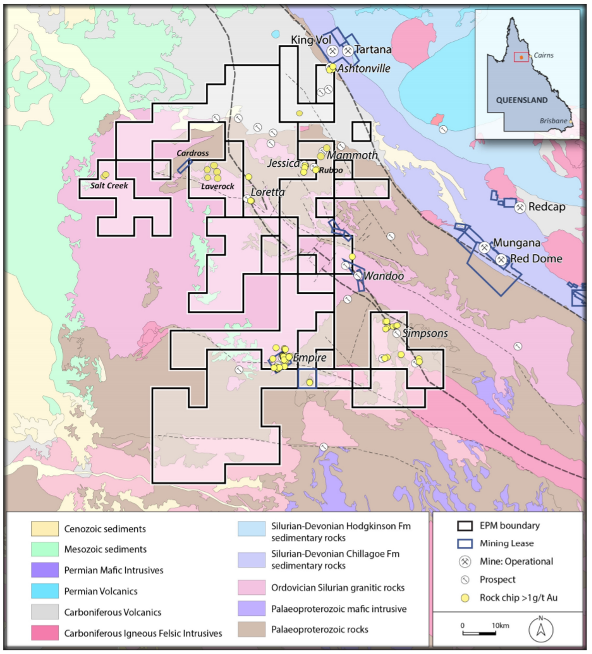 Subscribe to Announcements