The Conrad Project represents a polymetallic exploration and mining opportunity located in northern New South Wales. The Conrad mine is the largest historic silver producer in the New England region producing approximately 3.5 Moz of silver at an average grade of 600 g/t Ag with significant co-production of lead, zinc, copper and tin.
The Company's Mineral Resource Estimate for the silver polymetallic project is currently 3.33 Mt at 193 g/t AgEq for a contained 20.72 Moz AgEq.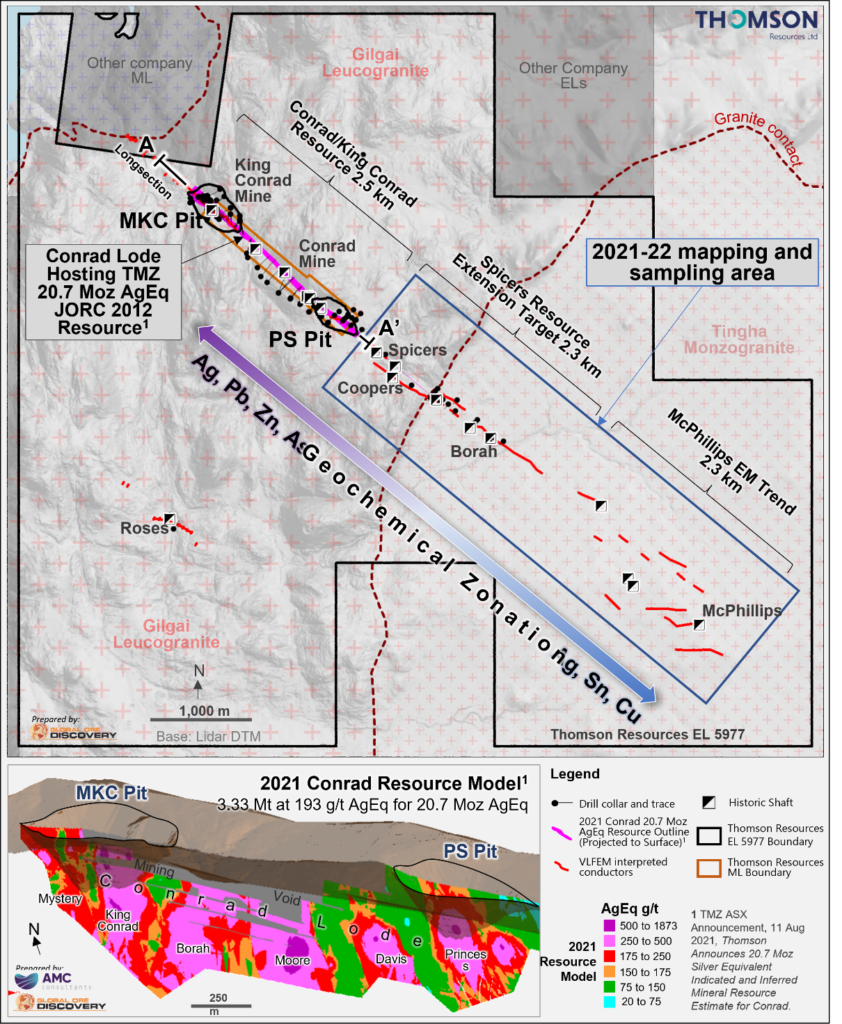 Exploration Potential
The Conrad Project has compelling resource expansion and exploration targets along strike. Steeply plunging mineralised shoots is an important feature of the Conrad Deposit. Resource modelling highlights the Mystery, King Conrad, Borah, Moore and Davis shorts are all open and untested at depth with high grade drill intersections in the range of 374 to 1,035 g/t AgEq highlighted at the base of these shoots.
Location and Geology 
The Conrad deposit lies in the southern New England Fold Belt and is hosted in batholiths belonging to the Permo-Triassic Moonbi Super-suite. The Tingha Adamellite and the Gilgai Granite, underlie the entire Conrad project area and host the Conrad Lode System. These rocks form a roughly circular, composite pluton of about 70km in diameter. The Gilgai Granite, which is interpreted to have intruded the Tingha Adamellite, is the main unit of interest as it is a highly mineralised, fractionated I-type granitoid.
The Conrad deposit comprises the Conrad Lode, the King Conrad Lode and the Greisen Zone; text references to a Davis Lode relate to a SE extension of the Conrad Lode. The Conrad/King Conrad Lode has approximately 2.3km of strike length in a north-west direction. The lode occurs at the NW end of a fault zone that has 7.5km of strike, and which transects the Tingha Adamellite and Gilgai Granite on the western side of the pluton. At the northwest end of the Conrad Lode is a zone of broad, more intense alteration known as the Greisen Zone, which locally outcrops.

Subscribe to Announcements