Thomson holds a collective land package of 111.5km2 of highly-prospective land surrounding South32's (ASX:S32) Cannington Silver mine, one of the world's largest producers of silver and lead. In two separate transactions Thomson acquired Caesar Resources Pty Ltd the holder of the application for EPM27530 next to the Cannington silver mine as well as applying for a new EPM area located 10km west of the Cannington Silver mine designated EPM 27742.
Partly bordering the Cannington silver mine, EPM27530 ("CR Tenement"), along with EPM27742 ("TMZ Tenement"), sit amongst tenements held by some notable major and mid-tier companies – Mount Isa Mines, Rio Tinto, Sandfire Resources and South 32
Location and Geology
There are multiple magnetic and geological structures that run through the Cannington mine and continue into the CR Tenement.
The Tenement areas are also on trend and in the same rock types as the Cannington deposit (Paleoproterozoic to Mesoproterozoic metasedimentary), making the CR Tenement area fertile for major silver-lead deposits.
Major copper-gold deposits in the area include Barrick's Osborne and Oz Minerals' Eloise and Jericho projects. These are of the Iron ore Copper Gold (IOCG) type and the TMZ Tenement has a strong anomaly of that type at the Brumby prospect.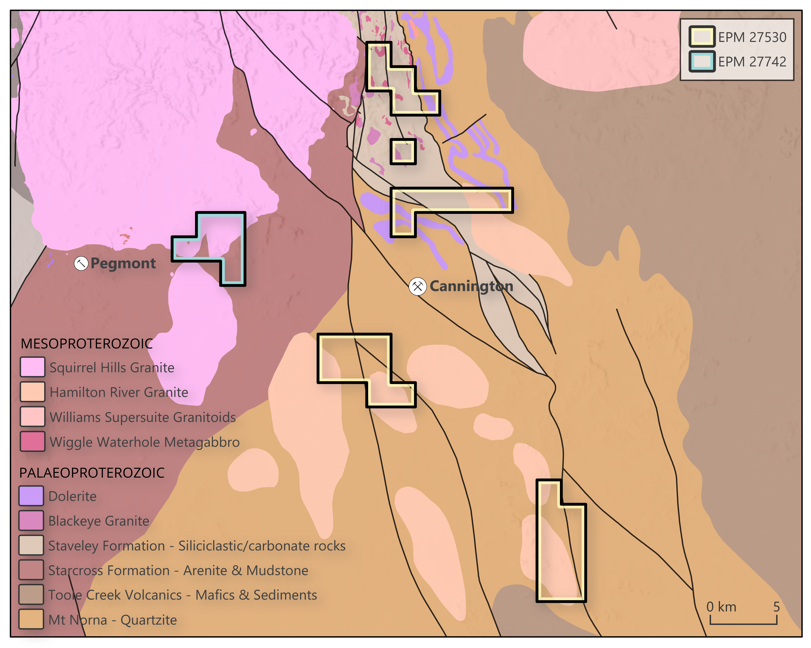 This appears as a discrete magnetic high. In a report lodged by Western Metals Copper Limited in April 2002 (Report CR 33502), at Table 11, the Brumby prospect is noted as being analogous to the Osborne Cu-Au Deposit and the Eloise Cu-Au deposit.
The Report reviews all historical work undertaken on, amongst other areas, the Brumby prospect. Section 6.2 of Report CR 33502 notes
"The Brumby Prospect is a prominent magnetic high located on the northern edge of a poorly exposed granite of the Williams-Naraku Supersuite. It consists of a multiphase breccia/alteration system hosted within gneiss, granite, psammopelite and minor amphibolite. The alteration assemblage includes magnetite, diopside, quartz and minor actinolite, apatite and titanite."
Additionally, Report CR 33502 references significant intercepts from historic drilling which is set out at page 14 of the Report[1]:
"Aberfoyle drilled 7 RC, 4 diamond and 8 RAB holes, while North Ltd drilled 1 RC hole and 11 RAB holes at Brumby. Several of these holes intersected significant widths of low-grade mineralisation:
PETD 06 34-61m 27m @ 0.35% Cu (including 42-47m 5m @ 0.43% Cu; 49-53m 4m @ 0.54% Cu and 0.15ppm Au).
PDTD 13 27m @ 0.66% Cu, 0.38ppm Au (including 9m @ 1.02% Cu, 0.6ppm Au).
PETD 25 33m @ 0.4% Cu, 0.46ppm Au (including 1m @ 9.1ppm Au and 3m @ 0.99% Cu, 0.32ppm Au).
TGRC 14 92-116m 24m @ 0.47% Cu, 0.24ppm Au (including 112-116m 4m @ 1.48% Cu, 0.54ppm Au).
These drill holes outline a steeply dipping NW trending mineralised zone at least 350m in length that remains open both to the NW and SE … This NW trending alignment appears to be a regional magnetic feature (see also magnetics in the 'Billycan' prospect area) and may be significant with respect to focusing mineralising fluids along particular channel ways."
---
[1] Tringadee Project Final Report lodged by Western Metals Copper Limited in April 2002 (Report CR 33502)
Subscribe to Announcements